Margret Eicher: Media Tapestries
01.10.2022 — 08.01.2023
Over the past 20 years Margret Eicher has created an impressive and very individual oeuvre consisting of large textile works. Her tapestries are contemporary artworks that engage in media criticism of the pictorial worlds that overwhelm us daily in the form of advertising and news. From these Eicher selects profane motifs which she alienates digitally and sometimes places in a context with works familiar to us from art history.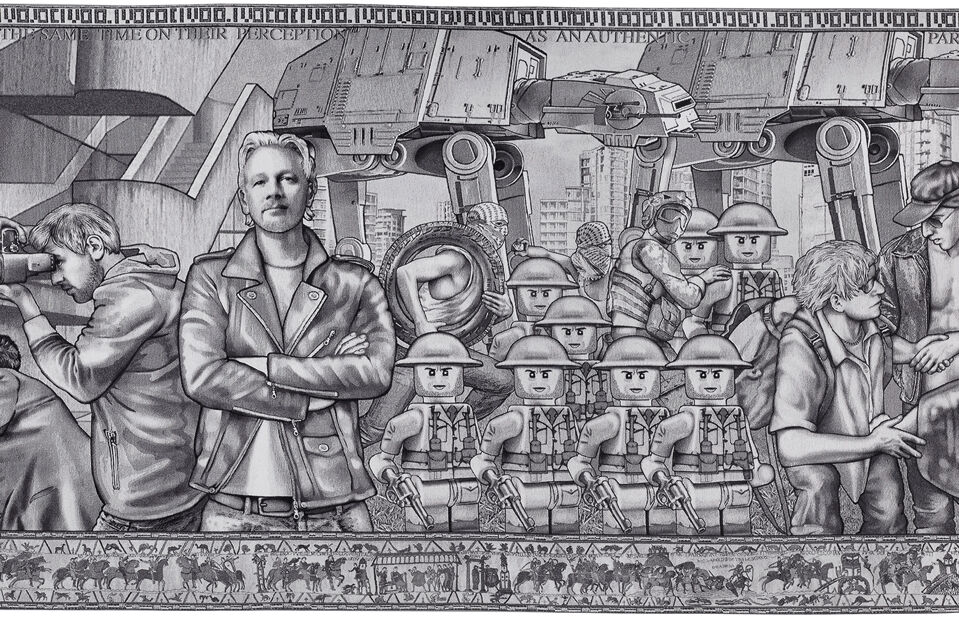 Margret Eicher uses the computer-based Jacquard process for the elaborate production of media-critical montages. She has her tapestries made in Flanders and in this way relates to a long tradition of form and décor and the aura of European tapestry design. This is especially true of the most recent work which represented the special highlight of the exhibition and lent it its title: BATTLE:RELOADED. The tapestry, measuring 1.20 x 30 metres, catapults the viewer into a dramatic sequence of images with a ego-shooter perspective. Based on the narrative of the Bayeux Tapestry (11th century), a "pseudo-narrative" was created – a sequence of scenes around antithetical themes of contemporary life in which structural and physical struggle, rioting and protest play an essential role.
In the exhibition, this unique work was juxtaposed with more than a dozen other large-scale tapestries that illustrate Margret Eicher's development since the turn of the millennium. In total, the show brought together 20 works, created between 2008 and 2022.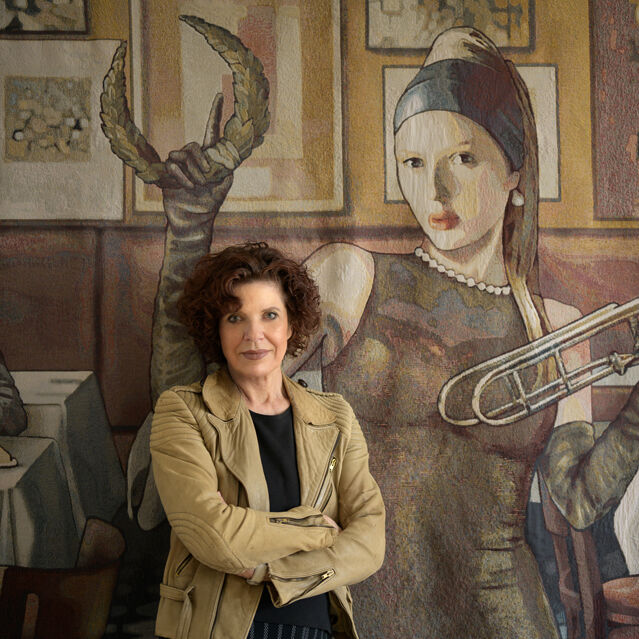 Margaret Eicher studied with Prof. Fritz Schwegler and Prof. Rolf Sackenheim at the State Academy of Art in Düsseldorf. She lives and works in Berlin.
Important solo exhibitions took place e. g. in the Haus am Lützowplatz, Berlin (2021), in the Museum Villa Stuck, Munich (2020/21), in the Sprengel Museum Hanover (2017), in the Kunstmuseum Ahlen and Angermuseum, Erfurt (2014), in the Badisches Landesmuseum, Karlsruhe (2013), in the Kunstmuseum Heidenheim (2012), in the Museum Liner, Appenzell (2007), in the Ludwig Forum, Aachen (2004), as well as in the Staatsgalerie Stuttgart (2000).
Works by the artist are included in various public and private collections in Germany and abroad, e. g. in the Kunstmuseum Ahlen, the Sprengel Museum Hannover, the Pfalzgalerie Kaiserslautern, the Badisches Landesmuseum and the ZKM | Center for Art and Media in Karlsruhe, the Wilhelm Hack Museum, Ludwigshafen, the Kunsthalle Mannheim and the Staatsgalerie Stuttgart.
Margret Eicher. BATTLE:RELOADED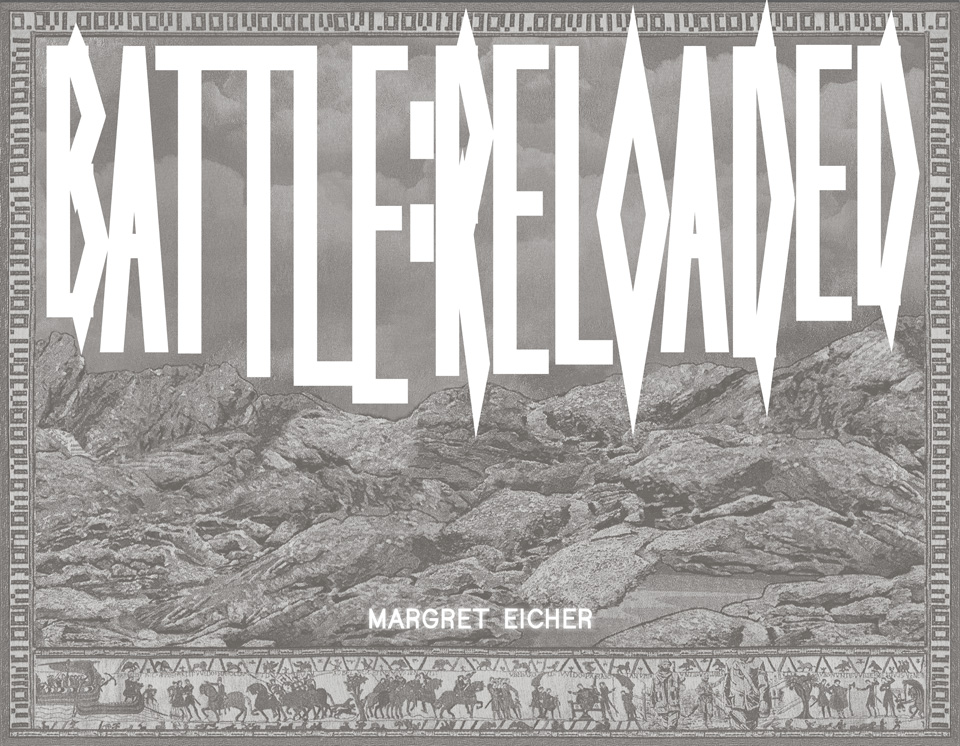 Vo. 26 of the Writings for the Kunstmuseum Moritzburg Halle (Saale)
Published by Christian Philipsen in association with Tho­mas Bauer-Fried­rich and Ulf Dräger
leporello
English / German

36 pages | full display of the work BATT­LE:RE­LOADED that can be opened to a width of 5.4 metres
Köln : Wienand Verlag, 2022
ISBN: 978-3-86832-733-5
Special edition 99 Euro
signed and numbered by the artist
Standard edition 49 Euro
We would be happy to receive your book orders!

Please note:
Prices plus postage
Orders only with advance bill
Despatch to all countries on request
Please send your inquiry, including name of desired publication and your personal data (family name, first name, address, telephone number) to:
With the friendly support of

BATTLE:RELOADED
Margret Eicher: Media Tapestries