Albert Ebert Tower Exhibition
A small, intimate room on the second floor of the northwest tower is dedicated to the work of the Halle painter Albert Ebert (1906–1976). It is designed to harmonise with his mostly small panel paintings, which glow in delicate colours. The exhibition was arranged in 2009 with the help of the Saalesparkasse savings bank foundation.
The museum has the biggest public collection of works by the artist, with 27 paintings from its own holdings and 10 permanent loans from the Saalesparkasse foundation, the entire collection of his prints and 12 sketches and hand-coloured prints.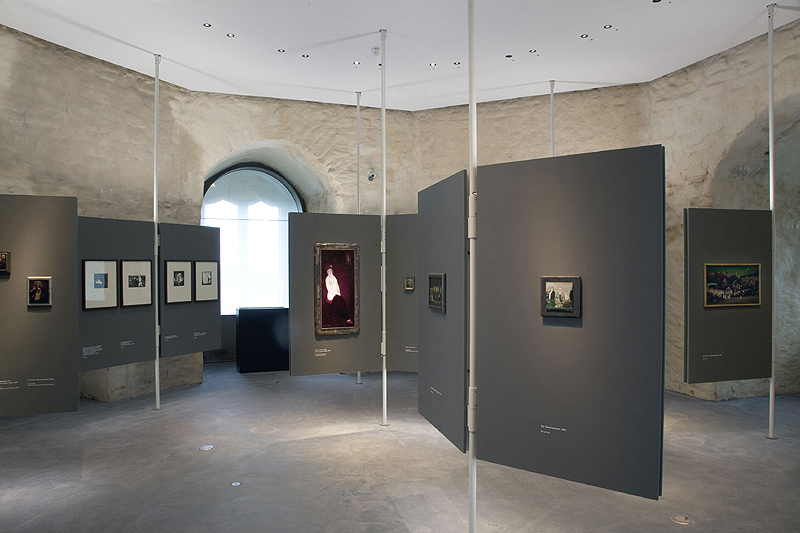 The "Rousseau of the Saale"
Among the art of the 20th century, Albert Ebert's works stand out for their particular originality. From a humble background, Ebert trained as a bricklayer, but decided to become a painter after returning from the war and following a severe illness. He learned the foundations of painting at the University of Art and Design, based at Giebichenstein Castle in Halle, and from artist friends.
Ebert's imagery ranges from an ideally happy children's party to the profoundly grotesque; his paradises are set on the banks of the Saale, lit by the glow of colourful lanterns.
Ebert worked on his small-format paintings in the manner of an old master, from the ground to the frame. His subtle wit and self-taught artistic expression were left unaffected by the GDR's cultural and political demands.
Highly valued by aficionados as the "Rousseau of the Saale", he spent a long time on the margins of the official art scene, only gaining widespread, official recognition after a large exhibition at Kunstmuseum Moritzburg Halle (Saale) shortly before his death in 1976.